LEGAL
By Andrew Asch | July 25, 2019
Copyright-infringement lawsuits have been big business in Los Angeles, which is the center of many creative industries including fashion, film and music. But a recent case tackling this topic in Southern California is making waves and might force prospective plaintiffs to be more diligent when filing for copyright protection.
After a six-month investigation, the U.S. Department of Labor issued a nearly $54,000 fine against a Los Angeles garment sewing contractor for underpaying 21 employees.
Fashion designer Mossimo Giannulli and wife, Lori Loughlin, pleaded not guilty on charges stemming from a college-admissions scandal case involving their two daughters.
Nearly one month after 33 parents were indicted for paying bribes to get their children into prestigious universities, 16 of them were indicted by a federal grand jury on a secondary charge of fraud and money laundering.
More charges filed against 16 parents caught up in college admissions cheating scandal.
Rent the Runway was started in 2009 by two East Coast women who hit upon the idea of renting out clothes to a broad range of women who like to mix up their wardrobe but may not have the money to buy a full closet of clothes.
Los Angeles fashion designer Mossimo Giannulli and his wife were named in a massive federal indictment accusing wealthy individuals of paying bribes to get their children into prestigious universities.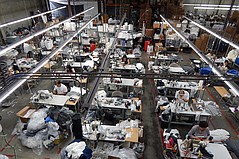 Ringing in the new year means ringing in a whole set of new laws that are important for employers to know. Most of these laws go into effect Jan. 1, but the minimum-wage increase in Los Angeles doesn't take effect until July 1.
Under the recently passed Agriculture Improvement Act of 2018, signed by the Trump administration, hemp has been removed from the Controlled Substances Act, which was signed by President Richard Nixon in 1970.
Following an antitrust investigation opened in June 2017, the European Commission has fined Los Angeles–based apparel brand Guess? Inc. for alleged practices the commission deemed restrictive to retailers.
The owners of Pacific Eurotex Corp., a textile company in Los Angeles, were sentenced to federal prison after they pleaded guilty last year to federal money-laundering and tax-evasion charges.
The famous trademarked red, blue or white tab found on Levi Strauss & Co.'s products has led the San Francisco denim maker to bring legal action against Yves Saint Laurent America, the American segment of the Parisian fashion house founded in the early 1960s.
The Delaware Supreme Court upheld an early court ruling that Dov Charney, the founder of American Apparel, must repay $19.5 million to Standard General, a New York hedge fund.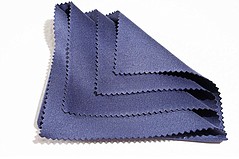 It might have led the charge for similar plastic microfiber bills in New York and Connecticut, but California's Assembly Bill 2379 is off the table—for now.
Joining West Hollywood and Berkeley, Calif., San Francisco implemented a similar ban restricting the sale of fur products following a unanimous 10–0 vote by the San Francisco Board of Supervisors. At the forefront of the ban was Supervisor Katy Tang, who represents the city's Sunset and Parkside neighborhoods.
Previous Next