IMPORT & EXPORT
By Deborah Belgum | March 7, 2019
Apparel and textile importers have spent the last year challenged by rising shipping rates and tight vessel space as cargo owners scrambled to bring in merchandise earlier than normal to beat an expected tariff rise on certain Chinese goods.
After months of talking about slapping tariffs on various imports from China, Canada and Mexico, the Trump administration announced it would like to start negotiations with the European Union to eliminate tariffs between the two regions.
The latest round of proposed tariffs on Chinese imports has the apparel world wondering if it is time to shift its manufacturing from the country that for decades has been known as the apparel factory to the world.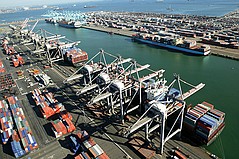 Despite rumblings of a trade war, the U.S. economy is marching forward at a nice pace as the U.S. unemployment rate hits a low not seen for almost 50 years.
In the latest salvo in the tariff war between the United States and China, the U.S. cotton industry is expected to receive a direct hit as China piles on an additional 25 percent tariff on U.S. uncombed-cotton imports.
A major trade war that started with aluminum and steel is now migrating into steep tariffs being placed on U.S.-made apparel exported to Europe.
The U.S. textile industry has asked the Trump administration to place tariffs on certain textile and apparel products made by China that may infringe on U.S. companies' intellectual-property rights.
The stainless-steel vats that populate the factory floor at Swisstex California churn out ribbons of damp, recently dyed knit fabric that piles up in large plastic carts before being sent to the finishing machines.
The North American Free Trade Agreement is still being negotiated between the United States, Mexico and Canada, but no new trade accord has been hammered out and retailers are getting worried.
President Trump launched a trade war in March by imposing a 10 percent tariff on aluminum and a 25 percent tariff on steel coming from countries around the world.
With about 33 percent of all clothing and 72 percent of all footwear sold in the United States coming from China, President Trump's latest volley to impose some $50 billion in tariffs on that Asian country could have a dire effect on the average consumer.
After President Trump signed an order on March 8 to impose tariffs on imported aluminum and steel, apparel makers were bracing for Europe to slap retaliatory tariffs on a variety of apparel coming from the United States.
The much anticipated Comprehensive and Progressive Agreement for Trans-Pacific Partnership, formerly known as the Trans-Pacific Partnership, was signed March 8 in Santiago, Chile, as member nations moved forward without the United States to build a stronger global economy.
February 15, 2018
|
By Dorothy Crouch, Associate Editor
Apparel factories and mills in the Western Hemisphere are still a significant supplier to U.S. retailers that are whittling down their lead times and looking for more just-in-time delivery.
With wages going up and unemployment going down, shoppers are expected to continue hitting the stores, which means more imports will be coming in by the boatload.
The new and improved Trans-Pacific Partnership is going forward without the United States as the other original members of the accord hashed out their differences in January, with a new free-trade pact expected to be signed as early as March.