IMPORT & EXPORT
By Deborah Belgum | May 16, 2019
Robert Jungmann has been importing hemp fabric from China for more than 20 years for the T-shirts he manufactures in Los Angeles.
As the Trump administration threatened to again raise tariffs on $200 billion worth of Chinese imports as soon as May 10, many were wondering how far it would go and what it would cost the American consumer.
After years of litigation, Byer California has agreed to pay $325,000 in a civil fraud lawsuit that alleges the decades-old San Francisco clothing company for five years undervalued the cost of its merchandise coming through customs, paying lower duties than normal.
Apparel and textile importers have spent the last year challenged by rising shipping rates and tight vessel space as cargo owners scrambled to bring in merchandise earlier than normal to beat an expected tariff rise on certain Chinese goods.
The recent lull in the trade war between the United States and China was good news for U.S. retailers, clothing manufacturers and importers who have seen their bottom line eroded by a 10 percent tariff on certain goods imported from China.
In the past year, it has become increasingly more challenging to be an apparel manufacturer, importer or retailer in the United States as uncertainty surrounds trade with China.
With additional tariffs on Chinese imports being threatened, Los Angeles clothing makers are feeling the pinch to bring in goods earlier to save money.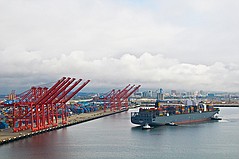 If you had to explain why the stock market is going up and down like a yo-yo, one of the reasons is the uncertainty in trade.
If you thought U.S. clothing companies were shying away from China to make their wide array of imported garments, think again.
This has been a year of uncertainty for the trade world.
When U.S. tariffs were levied in September on $200 billion worth of Chinese imports, some apparel companies saw the writing on the wall even if they wanted to erase it.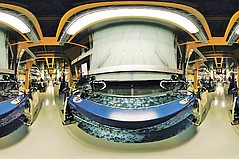 With new tariffs being placed on textiles coming from China, many U.S. fabric importers are scrambling to find new textile trading partners whose goods are not subject to the recently imposed 10 percent tariff that could rise to 25 percent at the beginning of the year.
New tariffs on nearly half the goods imported from China haven't dampened retailers' zeal for bringing in merchandise from overseas factories.
With the last-minute announcement on Sept. 30 that Canada would be joining the free-trade agreement with the United States and Mexico, there will be a new North American Free Trade Agreement covering about $12.5 trillion in trade.
Now that the Trump administration's $200 billion of additional tariffs have gone into effect on thousands of Chinese imports, the apparel and retail industries are figuring out what to do next. Covered in this round of tariffs are buttons, bobbins, yarns, embroidery, textiles, handbags and leather. Apparel is not part of the equation yet.
Previous Next