FASHION
By Deborah Belgum | October 11, 2018
For the past few years, <b>L.A. Fashion Week</b> has been bopping around the city, setting up runways at different locations that change from season to season.
NEWS
FASHION
Spring runway month has barely finished, but we have already pinpointed plenty of new directions for the upcoming season—from sturdy workwear to flouncy dresses, from tie-dye to daytime glimmer.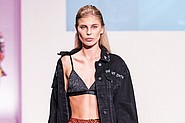 SPRING/SUMMER '19 TRENDS
California style was front and center for Spring/Summer 2019 trends, with designers from around the world looking to the Golden State for inspiration for their breezy styles this upcoming season.
FASHION
The fashion students from the Academy of Art University in San Francisco hit the runway during New York Fashion Week, showing their avant-garde and creative collections for both Spring and Fall 2019 at Pier59 Studios, located on the Chelsea Piers in Manhattan.