MANUFACTURING
n:Philanthropy Launches First West Coast Showroom at Cooper Design Space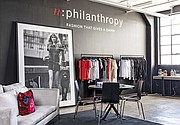 After launching her Los Angeles brand n:Philanthropy in 2014, Yvonne Niami has finally opened her first West Coast showroom at the Cooper Design Space in downtown Los Angeles.
The love Niami has for the building dates back to her childhood when she would accompany her uncle—who worked in fashion—during trips to the historic structure. While her admiration for the building stems from fond memories, as the owner of a fashion label Niami recognizes the potential of being surrounded by other well-known brands.
"The foot traffic is fantastic because there are so many other great showrooms," she said. "If a buyer is there to see a different client, they could always come see us on the eighth floor."
For its official launch on Sept. 24 in suite 817, n:Philanthropy unveiled its 600-square-foot space. Measuring the same size as the brand's SoHo showroom in New York City, the n:Philanthropy's Los Angeles space provides a West Coast home to two full-time salespeople. Prior to the showroom's launch, the fashion line's salespeople fielded a growing demand for the line by taking their appointments on the road.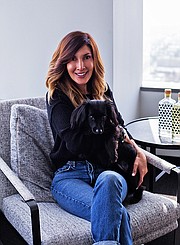 "As the brand grew and we were doing a lot of business on the West Coast, our salespeople were doing a lot of road appointments," Niami explained. "We're very lucky that the brand has done so well that we needed to have an ample showroom where people could come."
Counting retail partners such as Revolve, Saks Fifth Avenue, Nordstrom and Bloomingdale's among its clientele, n:Philanthropy produces women's and men's contemporary lines that rely on high-end basics. Wholesale price points start at $36 for T-shirts and increase to $90 for sweatpants.
In addition to having a space to present her line to existing and potential retail partners on the West Coast, Niami wanted to have a permanent space for important industry events, such as the Brand Assembly trade show, which takes place Oct. 8–10 on the top floor of the Cooper Design Space.
"We've been doing L.A. Brand Assembly for a long time, but we used to just rent a space at the Cooper building during the show," she said. "Now we have our own showroom there. We're excited for our first L.A. Brand Assembly in our own showroom."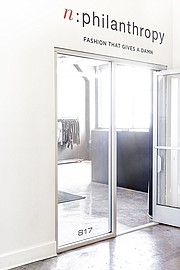 With its local designers and manufacturing partners, most of the work on n:Philanthropy takes place in Los Angeles. By including distressed necklines, strategically placed cutouts and featuring cool—yet comfortable—fabrics, Niami shows the influence of Los Angeles in her pieces.
"Having a bigger presence in Los Angeles is something that we are very excited about," she said. "We love L.A. Most of us live here. It's fun to have a bigger presence here with the showroom."
Through her fashion line, Niami is able to outfit customers in chic, comfortable clothes, but her mission is rooted in aiding important causes. The company was founded upon the mission of philanthropy by creating pieces that give back. The brand donates 10 percent of its net proceeds to charities including Children's Hospital Los Angeles and the Society for the Prevention of Cruelty to Animals Los Angeles.
"Those are the two charities that I've always been passionate about, even before I had a fashion brand," Niami said. "I wanted to meld fashion and philanthropy, and that is what we did with this brand."