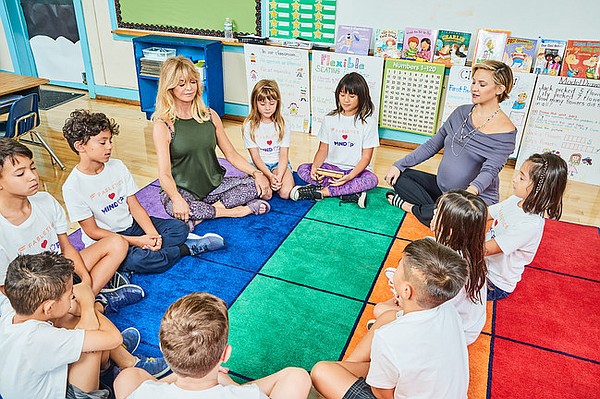 FASHION
Hawn and Hudson's First Collaboration Benefits MindUP Through Fabletics Capsule
Working together for the first time, mother-and-daughter actors Goldie Hawn and Kate Hudson launched a Fabletics x MindUP capsule collection of active-lifestyle apparel to benefit MindUp. Released Sept. 26, the Fabletics-produced collection was inspired by Goldie Hawn's style and 50 percent of net proceeds from the collection will be donated to the actor's charity MindUP to fund scholarships that will allow schools and teachers to bring the MindUP curriculum to new communities.
"This is the first time my mom and I have worked together and this partnership between Fabletics and MindUP is an exciting one to start with because the cause is near and dear to both of our hearts," Fabletics co-founder Hudson said in a statement. "My mom is incredibly passionate about the welfare of children, which is what led her to start MindUP."
The MindUP program is an educational arm of the Goldie Hawn Foundation. Its curriculum promotes mental fitness through neuroscience, positive psychology, mindful awareness and social-emotional learning. MindUP has been taught to more than 6 million children in 12 countries since it was founded by Hawn in 2003.
"This partnership has become a passion project with my daughter, supporting one of my most monumental causes," Hawn explained. "Together we see so many synergies between MindUP and Fabletics—health, wellness, activity, movement and balance, but also giving back."
Featuring pieces made with El Segundo, Calif.-based Fabletic's SculptKnit seamless compression fabric, the collection offers flared pants, an off-the-shoulder top, leggings, sports bras, a muscle tank and jacket. Inspired by the MindUP ethos, Fabletics x MindUP features hues that are meant to soothe, such as a soft purple, olive and black. A custom-designed lotus flower mandala design is also included within the collection as a nod to the calming meditation symbol.
Retail pricing for the limited-edition collection ranges from $34.95 to $84.95.