MANUFACTURING
H&M Launches Collection With Recycled Cashmere, Velvet and Eco-Conscious Fabric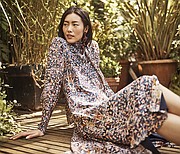 With sustainability the buzzword for responsible fashion, H&M has launched a collection for Fall/Winter 2018 that incorporates recycled textiles, which include cashmere and velvet made from recycled polyester.
The collection, with romantic silhouettes with a modern edge, debuts Sept. 27 and will be sold online only.
The conscious-exclusive collection has a range of womenswear, lingerie, shoes and accessories. Key separates include a full-length black coat with an oversized collar and waist-high side slits made from a recycled wool blend. A sequined flora jacket made from recycled PET bottles is great for more-formal occasions, and a long, printed dress with voluminous sleeves and a deep-V back is made from 100 percent organic silk.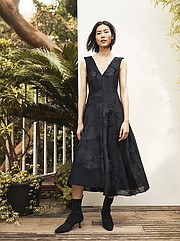 Accessories include sculptural earrings made from recycled plastics, black-sock booties made from recycled polyester and Tencel, a printed scarf with long fringe in a Tencel blend, and a black-shoulder piece with recycled velvet circles attached to long ribbons and a black-sequined hoodie/balaclava.
'We are absolutely thrilled to be launching a Fall/Winter conscious-exclusive collection," said Ann-Sofie Johansson, creative adviser at H&M. "It started with a desire to create a statement coat in a sustainable material that could be worn for both special occasions and day-to-day life but then evolved into something more substantial by merging the journey of historical artifacts with a modern design sensibility."
The collection also uses leftover Econyl from H&M's Spring/Summer 2018 collection.
Other manufacturers are joining the effort to recycle and be ecologically conscious. In 2016, Zara launched a sustainable collection made of organic cotton, recycled polyester and Tencel.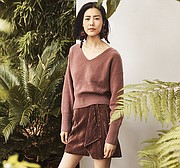 Most of Zara's sustainability efforts before were focused on eco-efficient stores and decreasing electricity and greenhouse-gas emissions.
In 2015, it started reusing packing supplies as part of its 2020 goal of zero landfill waste.
Since 1993, Patagonia, based in Ventura, Calif., has been making recycled polyester from plastic soda bottles.
Today, the company also recycles unusable manufacturing waste and worn-out garments into polyester fibers to produce clothing. Patagonia's recycled polyester goes into Capilene base layers, shell jackets, board shorts and fleece.