MANUFACTURING
Michael Glasser, Denim Innovator, 76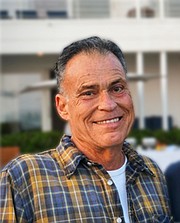 No one would ever say Michael Glasser was a shy man. People like to tell the story about how he was in Paris looking for design innovations when he saw a woman wearing a pair of patchwork Levi's. He quickly chased after her.
"He ended up buying the pair of denim jeans right off the lady in the street, and that began his love for denim," said Derek Glasser, Michael's son.
From that Paris experience, Glasser went on to start French Dressing, a denim line. It was the first of many denim companies that later went on to become legends.
Glasser passed away on Sept. 28 after being diagnosed a few months earlier with acute myeloid leukemia. He was 76. A private funeral was held Oct. 3 at the Hillside Memorial Park and Mortuary.
Ideas and energy were two main characteristics that defined Glasser, who helped start high-end denim companies including 7 For All Mankind, Citizens of Humanity, Rich & Skinny and CJ by Cookie Johnson. "He brought premium denim to the forefront," said Suzie Hart, the owner of the Niche Showroom at The New Mart, who worked with Glasser at five of the 11 companies he started during his long career. "He was a mentor, a teacher, a visionary with crazy, creative energy and probably one of the best salespeople I have come across in my career."
Glasser was born on Aug. 30, 1942, to Betty Fenster and Julius Glasser in the Bronx, N.Y., where he attended Taft High School. Instead of going to college, he immediately started working in the fashion industry and was soon designing knit dresses, said his son, Derek.
Then he partnered with a California manufacturer to start Simply Pants, a women's pant line whose revenues shot up quickly, but four years later it declared bankruptcy.
Never one to be discouraged, Glasser then set out to launch a number of companies including Bronx Casual Clothing and Democracy.
Then, in 2000, Glasser and blue-jeans designer Jerome Dahan hit upon an idea that would take off like a kite on a windy March day. They wanted to start a premium-denim line just as premium denim was the newest must-have piece of clothing to reside in everyone's closet. They joined forces with Peter Koral of L'Koral Industries and the three launched 7 For All Mankind, whose blue jeans were selling for the unheard-of price of $200 or more. The blue jeans were an instant success and were soon stocked by hundreds of retailers.
But after a dispute a few years later over profit sharing, Dahan and Glasser took Koral to Los Angeles County Superior Court and were awarded a $55 million judgment. From there, Dahan and Glasser went on to start Citizens of Humanity, which Glasser exited after a few years.
Later, Glasser met designer Joie Rucker, and in 2006 the two launched Rich & Skinny blue jeans, whose pants focused on color, unique washes and a wide variety of styles.
"The thing I loved about Michael is that he was full of life and energy and he never lost his passion for doing something new," said Rucker, who left Rich & Skinny in 2011 before it was sold to Twin Dragon Marketing in 2014. "He was a true entrepreneur at heart and a lot of fun. It was never all work with Michael. He found a way to play in every situation."
As a kid, Glasser was an athlete and basketball fan, which he passed on to his son, Derek, who played point guard at Arizona State University and is now the video coordinator for the basketball team at Rice University in Houston.
He shared his passion for design and creativity with his daughter, Aryn, with whom he was working on a new line at the time of his death, Derek said.
In later years, he valued quality time with friends and family, spending every holiday meal with his children, ex-wife Veronica, who was a friend for 36 years, and his dogs, Barney and Maddie.
Besides his children, Glasser is survived by his older brother, Gerald Glasser.