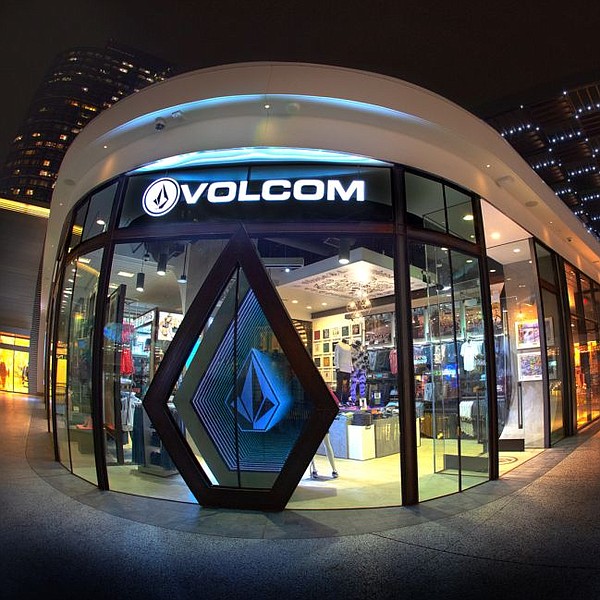 Volcom Unveils New L.A. Flagship
Volcom has long been providing popular styles on the beaches, mountains and on concrete favored by skateboarders. But in urban areas? Not so much.
It's one reason why the prominent, Costa Mesa, Calif.-based action sports brand has developed flagship stores in big cities such as Paris (the French store opened in 2017, Sacre Bleu!) The march to big, bad cities continues.
On Oct. 5, Volcom officially opened a 2,526-square-foot flagship at Westfield Century City on Los Angeles' Westside. Hip hop duo Run The Jewels dropped by the store to meet fans and to check out it's Run The Jewels X Volcom capsule collection.
Todd Hymel, Volcom's chief executive officer, said that the look of the Los Angeles flagship would influence upcoming Volcom stores. He declined to state if there was a schedule for opening new physical stores. Volcom also will be extending its e-commerce into new regions. The e-commerce program will include limited edition drops, or pop-up markets that will be announced through Volcom's social media in 2019, he said.
The new Volcom flagship is located between a Vans flagship and a Nordstrom. Enter by the Nordstrom side, vistors to the Volcom space will see a section for the brand's boardshorts and a roof inspired by the curving lines of a skateboard halfpipe. The back of the store features a denim and chinos wall.
At the front of the store, there's a section for the brand's women's casual clothing. On the ceiling, there's art by Los Angeles artist Michael C. Hsiung. On the shop's exterior, there's an installation called the Infinity Stone. It features the brand's icon; the Volcom Stone, illuminated by special lights. The lights give the illusion that it trail of the light is going on forever.
The shop's interior was designed by Volcom veterans, said Darin Bradley, Volcom's head of retail. "These people have been at Volcom since day one," Bradley said. "They have Volcom running through their veins."