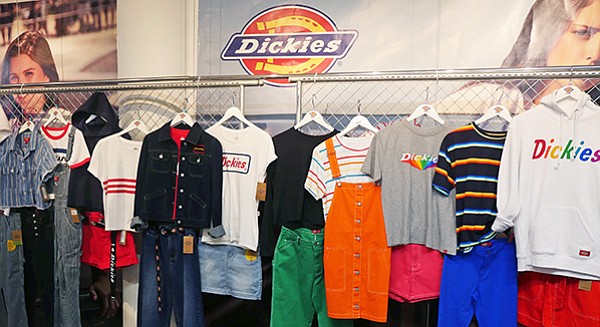 LA MAJORS MARKET
Vendors at L.A. Majors Show Claim Good Biz Despite Lighter Traffic
Retailers placed orders and brands introduced new denim lines at the semiannual L.A. Majors Market in an ambience where vendors thought that buyer traffic was slower than in previous years.
The show, which focused on merchandise for big department stores and mass merchandisers, took place Oct. 1–3, primarily at the California Market Center.
Retailers seen at the show included the Dillard's department store, juniorswear-focused Rue 21 and Charlotte Russe as well as value-focused stores including Bealls, Ross Stores Inc. and Burlington.
Vendors spent their days with scheduled meetings, but they conceded that traffic in the show's hallways seemed lighter than past years. Becca Dawson of the CMC said 99 vendors exhibited at the Majors. It was basically even with the October Majors Market in 2017. The number of temporary showrooms dipped for the October 2018 show, however. Some vendors who rented temporary space became permanent CMC tenants, Dawson said. Attendance also slipped because the market was scheduled around the same time as the Jewish holiday of Simchat Torah.
"It seems like the building is quiet," said David Vered, president of Los Angeles–headquartered denim brand YMI. "I'm surprised. October is the time when people are showing more enthusiasm for [the upcoming] Spring season."
Vered said one contributing factor might be the competition from online retailers, which is growing fiercer. Buyers from bricks-and-mortar stores are challenged with putting together better ways to interest their customers and keep market share, he said.
Doron Kadosh, president and chief executive officer of the 2253 Apparel Group, said his company had the same number of meetings as at previous markets, but there were fewer people in the show's hallways because buying delegations are staffed by fewer people. Also, there are fewer retailers working in the market, he said.
However, there was still a lot of opportunity at the show, even if a brand was not doing business at the CMC. Juniors brand Dickies Girl set up a temporary showroom at the Gerry Building across the street from the CMC.
Paula Unger, creative director for Dickies Girl, said her showroom had several walk-in buyers. "It was busy," she said. "We were solid with scheduled appointments, but we also had walk-in traffic." She credited interest from walk-in traffic to the brand's appearance at a fashion show/seminar produced by Directives West during L.A. Majors Market.
The market ran during a time of innovation for some major retailers and a time of continuing crisis for others.
Nordstrom Inc. is branching out to a new technology-enabled, omni-channel-focused Nordstrom Local store, which has two locations in the Los Angeles area and a third on its way soon.
Struggling department store JC Penney named Jill Soltau as its new chief executive officer in an effort to turn around the business's fortunes.
Department stores that have embraced technology have generally fared better than those who seem to run their businesses with 20th-century business plans, said Ilse Metchek, president of the California Fashion Association.
Increased turbulence is on the horizon for these retailers, she said. "Unless they do major changes in the way they merchandise, they'll never get [their market share] back," she said.
Juniors fashions have been a focus at past L.A. Majors Markets. At the recent show, one consistent theme was selling fashion lines pitched as being of higher quality and introducing young contemporary lines.
Alison Budow of Alison's Showroom introduced the young contemporary line Urban Noble, whose core wholesale price points for its jeans are from $54 to $58. "It's not being the cheapest. It is about giving the most value," Budow said. "It is slightly higher, but the consumer is willing to pay for it."
YMI introduced a young contemporary denim line called Secrets With Love for women ages 25 to 40 years old. Unlike YMI's jeans for juniors, Secrets With Love features better fabrications and different silhouettes, such as high waists and a unique yoke detail for an adult customer. Wholesale price points are $14–$18.
The 2253 Apparel Group introduced a Kendall + Kylie label, licensed from reality show and social-media superstars Kendall and Kylie Jenner. The brand is headed by Joie Rucker, the founder and namesake of Joie, as well as other denim lines such as Rich & Skinny.
The new Kendall + Kylie puts an emphasis on sophistication and value, Rucker said. "We're basically giving $200 jeans for a $78 deal," she said.