MANUFACTURING
Closer Lead Times in Apparel Is Benefiting Los Angeles Knitters, Dyers and Finishers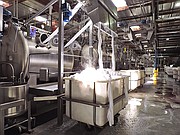 The stainless-steel vats that populate the factory floor at Swisstex California churn out ribbons of damp, recently dyed knit fabric that piles up in large plastic carts before being sent to the finishing machines.
These days, as blank T-shirts and activewear are among the fastest-growing categories in apparel, the machines are busier than ever dyeing fabric and applying special finishes to it. The rolls of fabric stacked in the company's warehouse are sent to T-shirt makers and activewear makers in Los Angeles as well as Central America as retailers and manufacturers look for shorter lead times on garments.
"Shorter lead times allow you to have two big advantages," said Keith Dartley, president of Swisstex Direct, a partner with Swisstex California, which provides circular knit fabric from outside sources to the company's dye and finishing house. "Brands or retailers are keeping less inventory to replenish quicker and they can make the right product at the right time."
Swisstex California, which has been a major dye and finishing house in Los Angeles since 1996, said it is bringing in more machinery and equipment to ramp up production by at least 35 percent to 40 percent by the first quarter of next year, when the company will increase its annual capacity to 40 million pounds of fabric. "This year, the expansion will start gradually, and by next year we should be up and running with the expanded capacity," said Michel Morger, vice president of Swisstex California.
Swisstex is also ramping up by 35 percent to 40 percent its production capacity at its factory in El Salvador, which was established shortly after the Dominican Republic–Central American Free Trade Agreement first went into effect in 2006. The complex has a cut-and-sew factory as well as a dye and finishing facility that now employs 200 people compared to 160 workers when it started.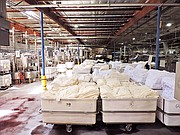 As Swisstex's customers—which include Nike, Under Armour, Adidas, North Face and Reebok—look to get goods on store shelves faster but cheaper than U.S.-made goods, they are increasingly employing Swisstex's factory in El Salvador. "Three years ago, 70 percent of our fabric came from Los Angeles and 30 percent from El Salvador, and that has completely flipped," Dartley said.
Other Los Angeles knit and dye establishments are also seeing a push by brands to produce more in Central America. Antex Knitting Mills, a division of Matchmasters Dyeing & Finishing, has been on a campaign to beef up its production capacity by 30 percent in the last 18 months. "I think brands want things faster and faster," said Bill Tenenblatt, president and owner of the knitting and dyeing complex he started in 1973 with his father, Jacob.
He said about 50 percent of the company's production is now being sent to Central America, where workers sewing T-shirts and activewear earn at least 60 percent less than Los Angeles workers. "The price of labor here is going up like crazy," Tenenblatt said. "Our plant is all computerized and automated, so you don't need as much labor, but sewing is different."
U.S. textile exports to Central America have grown markedly in the past year. Fabric exports from the U.S. to Nicaragua rose 15 percent to $183.3 million for the one-year period ending in March. U.S. fabric exports to Honduras increased 8.35 percent to $286.7 million during the same period, and textile mill products to El Salvador in the past year picked up 10.4 percent to nearly $131 million.
Activewear is driving much of this increase as are online sites such as Fanatics.com, said Mike Todaro, managing director of the Americas Apparel Producers' Network.
Fanatics.com is the leader in licensed sports merchandise and the e-commerce business for all major professional sports leagues. Want a T-shirt right away with the name and number of a newly drafted NFL quarterback? Fanatics can provide it fast. "Swisstex and Antex and other people are making it as fast as they can and it is going right to Central America," Todaro said.
Producing garments in Central America is not cheaper than in Asia. Some calculate it is 10 percent to 15 percent costlier to manufacture in Central America, where energy costs are high, than in China or India. But the shorter lead times make up for that.
Swisstex shortened its lead times to three weeks from the time the order is placed until it is shipped. Shipping can take another three to five days while from China it can take two to three weeks. "Even with CAFTA and duty-free goods, you can't beat Asia's cost," Dartley said. "But everything is lead times."
On a grander scale, Gildan Activewear, which bought the American Apparel brand name last year and cuts and sews most of American Apparel's goods in Central America, is about to open a new 600,000-square-foot textile factory in the next few months. It will employ more than 1,000 workers. It is Gildan's sixth factory in the Rio Nance complex in Honduras, where most of its T-shirts, underwear and socks are made.
The factory will be able to handle lighter-weight, more fashionable fabrics and will service a growing demand for fabrics in the athleisure and sports-performance market. "Speed to market has been a driving factor in that [new factory] as well as the demand by consumers to know where their products are coming from," said Gildan spokesman Garry Bell.
"The number of seasonable turns happening at retail is driving a lot of these supply-chain shifts, and the other thing is the movement of apparel sales online," he added. "Millennial consumers want to see now and buy now. They don't want to see it in February and buy it in June."