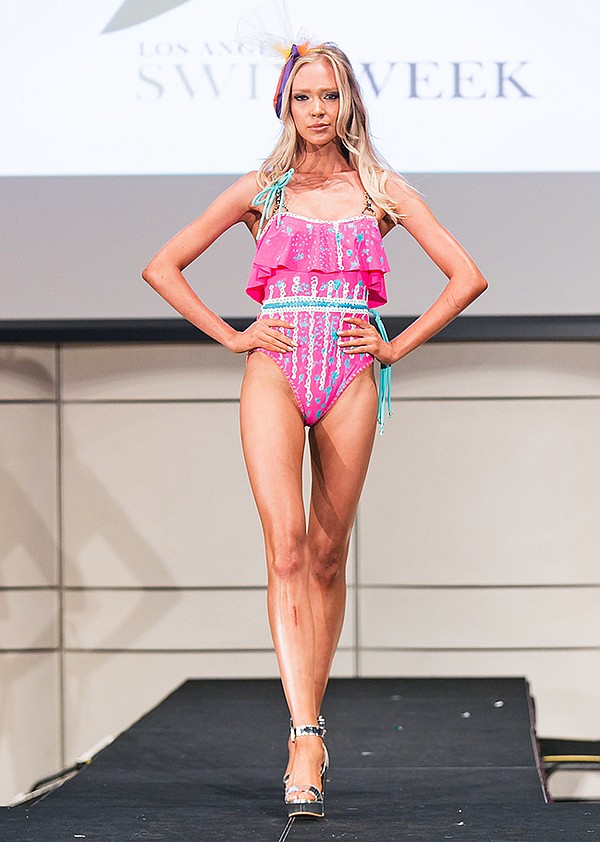 LA SWIM WEEK
LA Swim Week Starts on Irreverent Note
For its second run at the Skirball Cultural Center in West LA, the Los Angeles Swim Week fashion shows started on an irreverent note.
The glam, rock 'n' roll fashion label Cosmo and Nathalia took the runway with a camp, science-fiction–inspired show called "Surfing Swamp Monster From Planet Zon!"
Like other fashion labels, Cosmo and Nathalia showed bikinis and one-pieces. But it also treated the crowd to outré styles such as operatic headdresses and a cape bearing a detail in the shape of a giant eyeball on its back.
Following Cosmo and Nathalia, swim labels that looked to mix fashion and sex appeal in bikinis, maillots and cover-ups. Presenting at LA Swim Fashion Show were brands Amour Activewear, Isla Aditi, Mio Coral, Jennifer Loel Swim, Pauleth Swimwear and Leonisa.
Emceeing the show were Stephanie Sical, who was crowned the 2016 Miss Guatemala U.S. in 2015–2016 and Damian Rodriguez. Beauty queens such as Mrs. Latina Global were in the audience.